On March 10, 1959, tens of thousands of Tibetans took to the streets of Lhasa, Tibet's capital, rising up against China's illegal invasion and occupation of their homeland. They surrounded the Potala Palace, the home of the Dalai Lama, to protect his life and the future of the Tibetan nation. Tens of thousands were killed when Chinese soldiers opened fire but the Tibetans refused to surrender, and many risked their lives to ensure the success of the Dalai Lama's escape into exile, where he has been a tireless advocate for his people.
March 10th has touched the lives of Tibetans past and present, now scattered across this world, from our great-grandparents seeking refuge from across Tibet in the streets of Lhasa, to our grandparents making the dangerous escape across the Himalayas with our infant parents, to a new generation being born and raised in exile. There is no other point in Tibet's history that an event continues to touch our lives so intimately and one that continues to inspires generations of the courage, resilience and the hope of the Tibetan people and one that continues to fuel the Tibetan freedom movement.
Sixty years later, Tibetans are still filled with the same devotion and passion to safeguard their leader and homeland from China's rule. Tibetans are still demanding independence and the freedom simply to be Tibetan – to speak their language, to practice their Buddhist religion, and to live freely in their own country.
Tibetans inside Tibet are unequivocally demonstrating that they will not be controlled by Beijing, nor can they tolerate the extreme repression they have been forced to endure for the past six decades.
At least 155 Tibetans inside Tibet have now self-immolated for freedom since 2009. 10 self-immolations by Tibetans have occurred in exile. Ever since March 10, 1959, Tibetans have risen up – from the protests of the 80s to the 2008 widespread uprising to the recent self-immolations – and are risking everything with the belief that their sacrifices would change the course of history for the future generation.
Today, an entirely new generation of Tibetans in Tibet and in exile are at the forefront of the Tibetan freedom movement, leading with passionate, smart and creative non-violent ways to finish what began over half a century ago.
On this annual day of resistance and hope for the Tibetan people, we pay tribute to the extraordinary courage of Tibetans resisting in Tibet, and all Tibetans, past and present who have courageously resisted China's violent colonial rule. We urge citizens around the world to join us in calling for an end to China's occupation of Tibet.
This March 10th, on the 60th anniversary of the Tibetan National Uprising Day, all of us at SFT pledge to redouble our efforts to support the resistance in Tibet and renew our commitment to fight in solidarity with the Tibetan people in their struggle for freedom and independence.
From every corner of the world, Tibetans and their supporters will rise up for Tibet and:
Stand in solidarity with the Tibetan people to show them that they are not alone and that the world is responding to their calls for freedom;
Call our governments to action to challenge China's repression in Tibet and to unite in action to help resolve the Tibet crisis;
Hold Xi Jinping and the Chinese government accountable for its extreme and violent policies against the Tibetan people; and
Commemorate Tibetans' courageous resistance and demand freedom and justice for the Tibetan people.
March 10th is a day that serves as a reminder to all – especially to the Chinese government – that the spirit of the Tibetans who rose up 60 years ago grows stronger every day, that a new generation of Tibetans is determined to complete the struggle that began over half a century ago and that a growing global community stands in solidarity with them in their fight for freedom.
From all of us at SFT to the new generation of Tibetans in Tibet and in exile who are taking leadership of the Tibetan freedom movement, we are with you today, tomorrow and until Tibet is free and independent.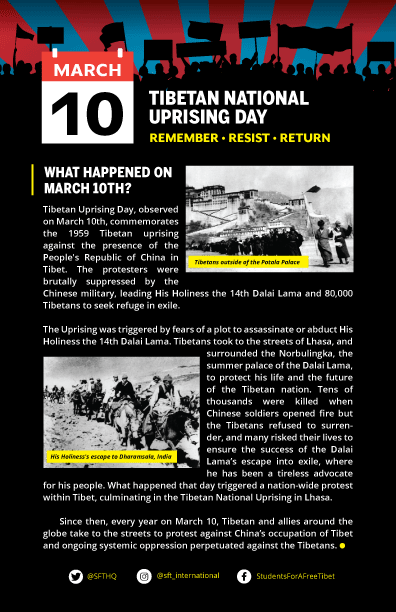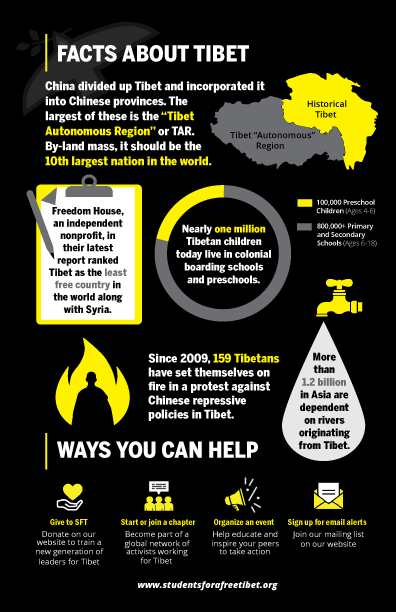 Download our free March 10 printable flyer on our March 10th Action Kit page!