According to another report published in the same month by The Citizen Lab of the University of Toronto, Chinese authorities may have collected roughly between 919,282 and 1,206,962 DNA samples in areas of Tibet referred to by the Chinese government as the Tibet Autonomous Region since 2016. The report found that Chinese officers visited fields, monasteries, residential neighborhoods, businesses, and even schools to collect "pin-prick blood samples" from Tibetans.
The Chinese government is building the world's largest police-run DNA database with the help of key industry partners in the West. One such partner is Massachusetts-based company Thermo Fisher Scientific. Thermo Fisher is a key supplier of DNA profiling technology in Tibet. This is not the company's first involvement in the Chinese government's dystopian programs of mass surveillance and repression. Thermo Fisher has been criticized in the past for selling DNA equipment to the police in East Turkistan (Ch: Xinjiang).
DNA collection in Lhoka Prefecture. Source: "Lhoka Police Bulletin," Lhoka Public Security, August 31, 2021
In 2018 and 2019, Thermo Fisher was widely criticized for supplying technologies used for mass DNA collection to police in East Turkistan. Following a New York Times report in Feb 2019, the company announced that they will stop selling China equipment used to create a DNA database of the country's Uyghurs population. Unlike other biometric markers (fingerprints, facial recognition), DNA with its genome has the power to not only identify an individual but also their genetic relatives.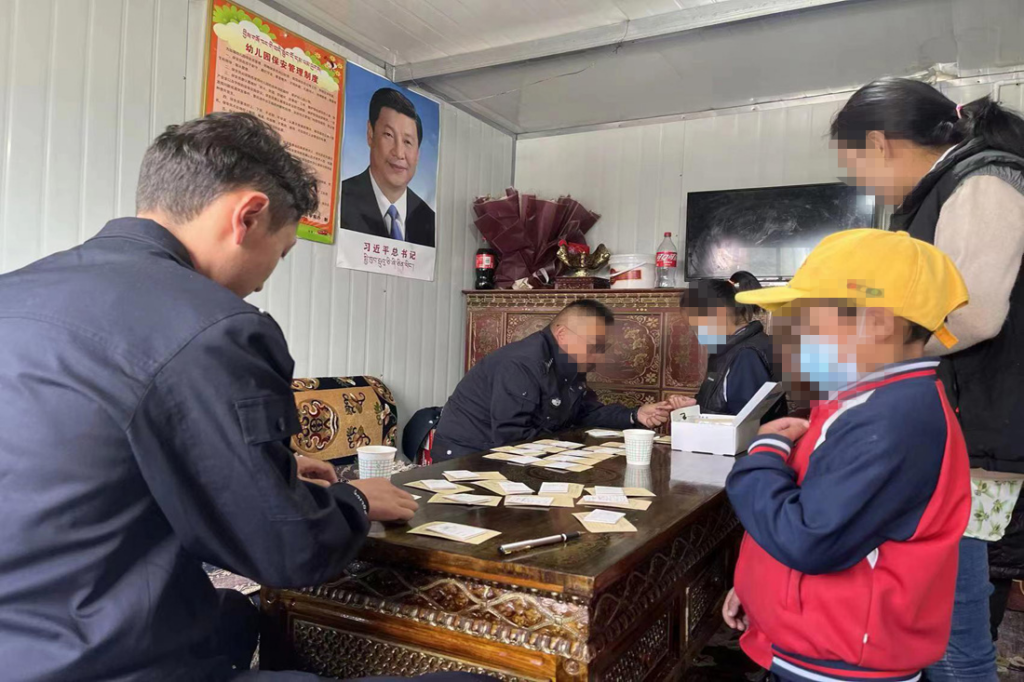 DNA collection from children in Damxung County. Source: "Damxung County Public Security Bureau: Geda Village Police Station Continues DNA Collection Work," Lhasa Public Security Bureau, June 22, 2022
Not only does this state-run DNA collection drive violate individuals' privacy rights and the right to bodily integrity, it will also undoubtedly heighten China's repression in Tibet. Tibetans, who are subjected to cultural, religious, and language repression in Tibet under Chinese occupation, are facing a new high-tech form of surveillance which will increase the magnitude of China's human rights violations.
DNA collection from Buddhist monks in Nagartse County. Source: "Comprehensive Dynamics, Police Rapid View," Yamdrok Public Security, May 20, 2022
The Chinese authorities have sought to justify the DNA collection drive as a means of solving crimes (such as bank robbery or kidnapping) but in reality, this is a textbook case of an authoritarian, colonizing regime finding new ways of repressing people in the name of "stability maintenance and social control." It is imperative that we stand against the Chinese government's aggressive DNA collection drive and Thermo Fisher's involvement in the program.
Sign this petition to let Thermo Fisher know that their provision of DNA profiling technology to a heinous and dystopian data collection drive breaches the most fundamental human rights of the Tibetan people and must cease immediately.